This is an updated version of an older blog post. I'm hoping that in this *expanded* and *enhanced* version, the important details and facts I left out the first time will become much more clear, and I'll be able to better explain some things I didn't explain thoroughly enough last time.
Here's an in-depth analysis and explanation of a troubling situation me and a friend have been dealing with involving Project Pixkill, internet polling, and Tankman. My friend has asked that I don't use his username, so I'll just refer to him as "my friend."
Back in the winter of 2019, Project Pixkill, a series where adorable sprites of famous fictional characters brutally slaughter each other in the field of battle. The winner is determined by the result of viewer polls put up by the creator, 53xy83457. The poll that caused all the commotion was "Doom Guy vs Tankman."
What I didn't realize at the time was how emotionally invested my friend (who asked that I not use his username) was in Tankman winning. See, usually in Project Pixkill, Newgrounds characters and obscure underdogs tend to win. It was a tradition he really appreciated, and I did too.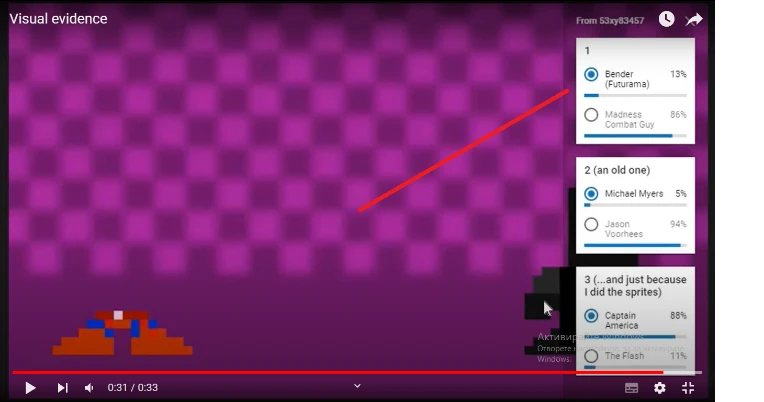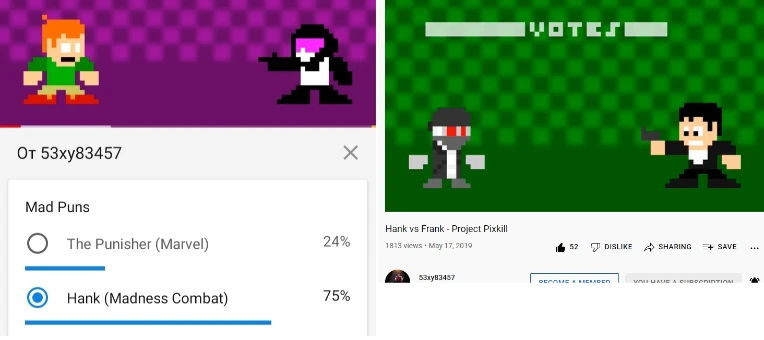 (Editor's Note: all the fights screencapped here were way before the FNF Ludum Dare prototype)
Furthermore, the fact that Newgrounds characters always won was also important to him, because it showed how loved, respected and appreciated the site was by 53xy's fanbase. He believed it would be a good tribute to Newgrounds, seeing as Tankman is the main mascot. Trouble is, it was looking like it wouldn't happen this time. To make matters worse, I also initially voted for Doom Guy.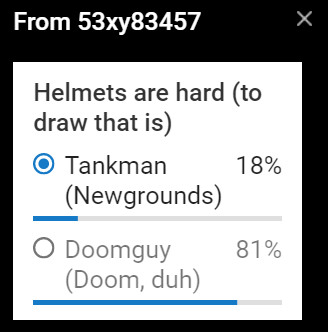 Why did I do it? I thought Doom Guy was cool, just like a lot of other people. But I didn't think about the tradition. I just forgot about it. Even then, it was a tricky decision for me, and there was a 50/50 chance I'd vote for either character. Later, once he finally pointed it all out, I regretted my choice. To be honest, in hindsight, I felt a little stupid afterwards.
I ultimately decided to change my vote to Tankman for several reasons, like the fact that I really do like obscure characters more, and that just like my friend, I thought Tankman should win because he's a Newgrounds representative. but the strongest of which being that I realized how important it was to him. It might seem silly to some, but Newgrounds holds a special place in his heart, as it does in mine. 
Naturally, this really upset my friend. He repeatedly expressed displeasure and sadness over the fact that I didn't vote for Tankman, and that Doom Guy was winning. He felt like it was unfair and it seemed to really hurt his feelings. He had a lot of emotional investment in this, it seemed this tradition was really important to him. Later, he'd tell me that he was hoping that by getting me to vote for Tankman it could help turn the tide, that maybe we'd both be motivated to rally more votes for him and turn it back. Unfortunately, by the time I changed my vote, it was already clear Tankman was going to lose.
Keep in mind, this was in 2019. Quite a while before Tankman saw a huge uptick in popularity thanks to Friday Night Funkin, which was originally released as part of the first Ludum Dare Game Jam in October 2020. At the time, he was fairly obscure. Sure, he's the mascot of Newgrounds and all, but how many people have seen JohnnyUtah's fantastic Tankman series before then? So, by all means, Tankman was definitely an underdog.
You can see why my friend thought Tankman would win, and why he thought I'd vote for him. Finding out I didn't, and that Tankman lost, would naturally hurt a lot worse because of this expectation. I'm sure the stark contrast between the expectation/hope and final result made things quite painful.
It's inspiring to see a smaller character triumph against the odds and win, to achieve victory despite having a small chance. If Tankman, a beloved but slightly obscure dark horse character from Newgrounds had successfully beaten an extremely popular, absolute juggernaut like Doom Guy, it would have been a massive victory. So, for these reasons, I felt Tankman was arguably the better choice.
(Editor's Note: Oh, and I should mention, all these compelling arguments for why Tankman should have won were thought up by my friend :D)
Tankman's loss was a gut punch for my poor friend, especially with the expectations he had that weren't met. I sometimes still wonder if I had changed my vote earlier, if it would've helped build up more momentum. The ratio by which Tankman was defeated was even more disheartening, losing with only 18% of the vote to Doom Guy's 82%. I imagine if the vote were much closer, it wouldn't have made us both feel so badly.
To this day, my friend is still upset over it. He's still disappointed with the outcome and wishes it happened differently, and that I voted a different way. It didn't seem very important to me at the time, but now I realize with how much emotion he had invested in this fight, I regret not voting for Tankman sooner.
But, hey, maybe one day they'll invent time travel and we can pull a Marty McFly. Until then, what do you guys think? What's your take on the situation? Is anybody in the right, or the wrong? Is anybody at fault? Your thoughts are deeply appreciated.
With all that, we'll close out on a few life lessons I think we can all learn from this :)
1. Communicate clearly, Make sure people know what you want and what's important to you.
2. Don't act in haste. Think carefully before you do something and ask questions.
3. Be kind, and others will be kind back.
4. See failure as opportunity to learn, and discomfort as an opportunity to grow stronger. Challgenge yourself and you'll keep evolving and get better!
Have a great day, people!